A balmy afternoon during the last year of college. I had settled in at my favorite table by the window at my beloved crêperie in downtown Santa Barbara when I caught sight of one of the most striking young women I had ever seen.
She passed my table with a stack of menus and headed towards the kitchen only to reappear by the register. Trying not to stare, I instead risked a few furtive glances over the top of my menu.
Santa Barbara is known for pretty women; the genetically blessed are hardly a rarity there. Still, the girl possessed such a striking ethereal beauty that she would have stood out anywhere.
"Did you see her?" I asked my then boyfriend during our next lunchtime outing to the crêperie after she had glided past our table. "She is gorgeous."
"You should go make friends with her," he said, flashing a slightly lecherous smirk.
"Yeah, I'm sure you'd love that," I responded in mock annoyance gently elbowing him.
Little did either of us realize that these initial sightings of the then-anonymous girl at the crêperie would develop into a decade-long friendship.
Her name was France ("like the country," she always told smitten male admirers in her thick accent). She grew up in the small town of Vichy, and had come to Santa Barbara on a study-abroad program to learn English. Soon she had fallen in love with the sunshine, the beach and an American college student with whom she shared an apartment not far from the waterfront.
In the months that followed, we bonded over the typical post-college conundrums that befall any young woman trying to make her way: relationships gone awry, unsettled career plans, the reality that university was over and that bona fide adult life was fast encroaching.
We took evening walks to the Santa Barbara Mission, gorged ourselves on chocolate biscuits and tea, and stayed out too late drinking champagne. For her beach birthday party I came dressed as a Tiki God, much to the bewilderment of many French guests—"A what? A Gigi God? C'est quoi ça?"—and she braved long hours and multiple takes as an extra in one of my director boyfriend's short films.
The summer after graduation I traveled to Europe with my sister, and met up with her in her home town, where she laid out croissants and jam for us each morning and encouraged us to "stay in the shadow" during sweltering afternoons.
It was at there at her parents' house that I came upon the most stunning picture I had seen of her yet, a dramatic black and white shot that was taken when she was still a teenager. Even now I think of Brigitte Bardot in her Godard days or of Veronica Lake vamping for the camera in one of her famous publicity stills.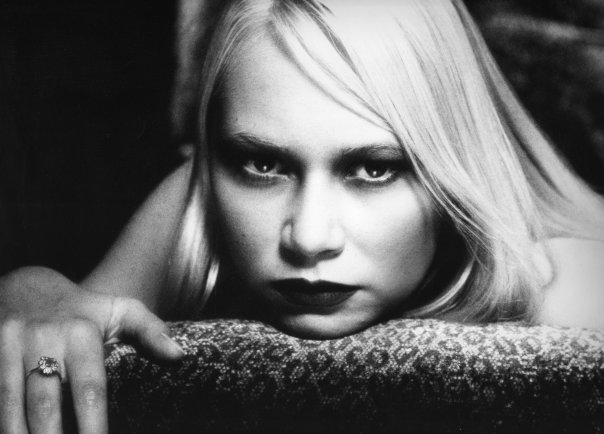 Aware of her effect on men, she nevertheless found their admiration comical at times. Sitting in the Montecito living room of a male acquaintance late one evening and more than slightly tipsy, she had lapsed into a strange monologue about a story she had heard on the news regarding a man who had spontaneously gone on a shooting rampage at his workplace.
"It is crazy," she deadpanned as our host cast lusty gazes at her from his perch on the piano bench. "It could happen to anyone. Anyone could just snap and kill someone just like that. Even me."
"Mmmm, of course," he had responded. "Would you like a back massage?"
"I could have been saying anything," she told me later with a laugh. "He really didn't care."
Sometimes I wondered what it was like to possess that sort of devastating, double-edged beauty. A beauty that could reduce otherwise intelligent men to stammering idiots, but could all-too-often eclipse other qualities: kindness, loyalty, intelligence and strength. I also pondered the burden of knowing that such striking physical beauty is as transient as it is powerful.
"We have our time, and then you just have to let go," she told me at the ripe old age of twenty-eight. "It has always been that way."
It has been a decade since we first met, and though life has taken us in different directions, she remains a close friend.  We reunited in Santa Barbara a couple of months ago, where we had dinner at the same crêperie. I told her about the day I first saw her, and we both laughed.
Although beautiful as ever, the girl at the crêperie had long ceased being the mysterious, cinematic stunner, and was simply France. My friend for life.
Merci pour tout et bon anniv' ma jolie!
Related Posts :